Russell (Russ) E. Hamill, III, is the Chief of Police in nearby Laurel, Maryland, after having retired as the Interim/Acting Chief of Police with the Montgomery County (Maryland) Police Department where he served from 1986-2019, after nearly three years as a Montgomery County Deputy Sheriff. After graduating from the Public Safety Training Academy, he was assigned to the 1st District as a patrol officer where he was also assigned to the Lincoln Park Community Policing Team (the department's first effort at community policing), and then the Special Assignment Team. He was then assigned to the Special Investigations Division as a detective in the Drug Investigations Unit, where he would ultimately serve three separate assignments, finally as Commander for Drug Enforcement for the Department.
In November of 1994, he was promoted to the rank of Sergeant where his numerous assignments included serving as a supervisor in Patrol, Investigations, Special Operations/Alcohol Enforcement, the Police Community Action Team and as the Commander for Training Development, where he oversaw all In-Service Training, Critical Skills Training, including Safety and Survival, and Field Training Operations. Chief Hamill also started the Department's Centralized Auto Theft Team and the Special Investigations Division's Operational Support Section.   
In November of 2001, he was promoted to the rank of Lieutenant and assigned as the Deputy Commander of the 1st District. Subsequently, he was assigned as the Deputy Director of the Special Investigations Division. 
In November of 2004, he was promoted to the rank of Captain and appointed as the Director of the Criminal Investigations Division. In 2006, he successfully completed the Maryland Leadership Challenge program and graduated from the FBI National Academy. In August of 2007, he took responsibility for the 2nd District as the Commander for that District.  In 2011, Chief Hamill was promoted to Assistant Chief of Police where he served as Chief of Detectives for seven years and Chief of Management Services until ending his career with Montgomery County in 2019 as the Acting/Interim Chief of Police.  Chief Hamill is also a graduate of the Police Executive Research Forum's Senior Management Institute for Police and successfully completed the Leadership Montgomery Program.  He is also currently the Co-Chairman for the Washington Metropolitan Area Council of Governments Police Chief Committee.
Chief Hamill is a life-long resident of Montgomery County. He received a Bachelor of Arts degree from the University of Maryland, and a Juris Doctorate (Cum Laude) from the Howard University School of Law. He is married and has five children.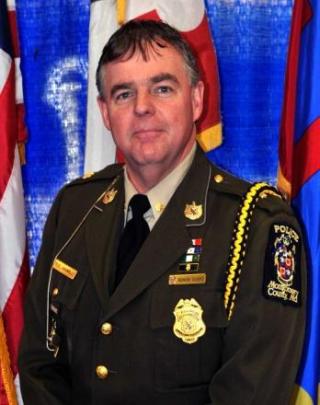 2220W LeFrak Hall
Department of Criminology and Criminal Justice
Email
rustyham33

[at]

gmail.com