Jean McGloin is currently a Professor in the Department of Criminology and Criminal Justice at the University of Maryland and Associate Dean of Research and Graduate Education in the College of Behavioral and Social Sciences.  She received her Ph.D. and M.A. in Criminal Justice from Rutgers University-Newark.  She earned an A.B., summa cum laude, from Bryn Mawr College.  Dr. McGloin's research interests include peer influence, co-offending, street gangs, and collective behavior.
Areas of Interest
Co-offending, peer influence, collective behavior
Degrees
Degree Details

Rutgers University-Newark

Degree Details

Bryn Mawr College

Degree Details

Rutgers University-Newark
Jean McGloin's primary research focus is on groups and crime, which is reflected in several intersecting streams of work.  She has an ongoing research program focused on developing new theoretical explanations of peer influence, the role of peer network structure in shaping delinquency, and the extent to which individual characteristics condition peer influence.  She also conducts research on co-offending, including why offenders decide to commit crime with accomplices, under what conditions they will instigate group crime rather than follow others, and how co-offending networks can shape and influence the criminal career.  As part of this stream of research, she interested in how the group can shape and affect decisions about offending, both incentivizing and disincentivizing deviant action.  Finally, she also studies the role of gang membership in offenders' trajectories.  
Co-Editor for the Journal of Research in Crime and Delinquency
Current Students
Related Students (Listed by Student on Student's Profile)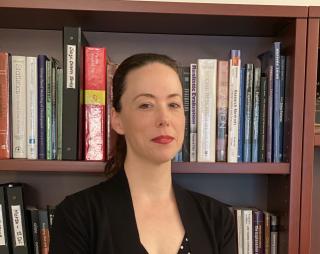 2155 LeFrak Hall
Department of Criminology and Criminal Justice