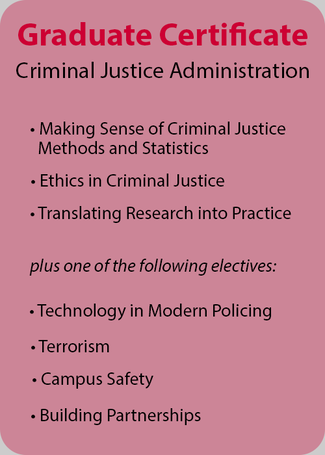 The Graduate Certificate in Criminal Justice Administration (CJA) from the Department of Criminology and Criminal Justice at the University of Maryland is designed to prepare criminal justice professionals for the next level of career advancement by providing them with the foundation needed to understand and apply evidence-based research to their professional endeavors. 
You're earning more than a certificate! Once you have completed the program, take comfort in knowing that the 12 credits you earned can be applied toward a 30-credit Professional Master's degree in Public Safety Leadership and Administration.
All classes are offered entirely online to accommodate the demands of your busy schedule, and In just 12 months you can earn your Certificate. 
Learn more and apply here today!