On Monday, May 15, 2023, the University of Maryland's Center for the Study of Business Ethics, Regulation & Crime (C-BERC), College of Behavioral and Social Sciences, and Robert H. Smith School of Business once again co-hosted the Fishlinger Family Lecture. This annual event is made possible by the generous support of Matt Fishlinger, GVPT '07, and Bill Fishlinger, GVPT '71, and their families. 
The 2023 Fishlinger Family Lecture was held in the Ronald Reagan Building and International Trade Center's Rotunda. 
Sally Simpson, Director of C-BERC and a Professor in the University of Maryland's Department of Criminology and Criminal Justice, opened the 2023 Fishlinger Family Lecture with a brief history of C-BERC, and an introduction to the 2023 lecture's featured speaker: David M. Rubenstein.
"The Center was created as a multidisciplinary hub with support from the College of Behavioral and Social Sciences and the Robert H. Smith School of Business, engaging academics, practitioners, policymakers, students, and other thought leaders to scientifically confront, assess, evaluate, and develop best practices regarding the ethical dimensions of business decision-making and corporate governance," she said. "The centerpiece for C-BERC's public outreach is the Fishlinger Family Lecture, which has featured distinguished scholars in law and business along with well-known policymakers … It is in this great tradition of Fishlinger lecturers that I am honored to introduce our guest, David M. Rubenstein."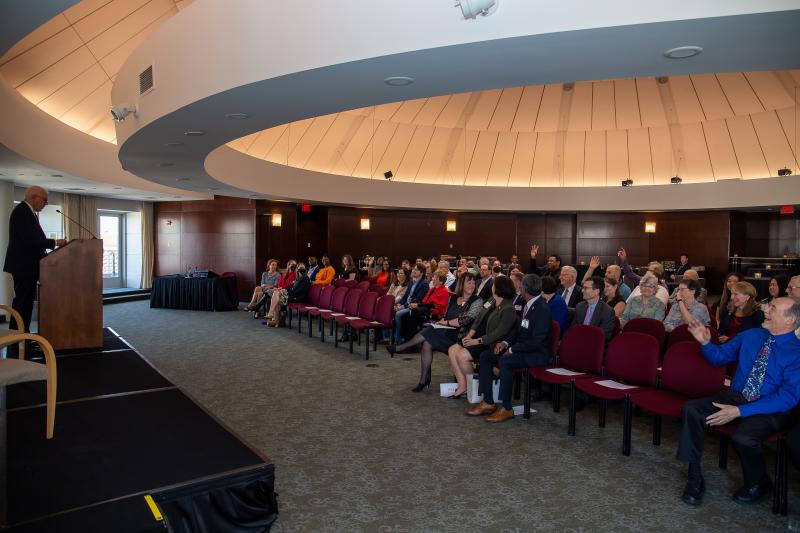 Rubenstein is the Co-Founder and Co-Chairman of The Carlyle Group, one of the world's largest and most successful private investment firms. He is also the author of The American Story, How to Lead, The American Experiment, and How to Invest, as well as the host of "The David Rubenstein Show," "Bloomberg Wealth with David Rubenstein," and the new PBS documentary series "Iconic America." 
American history, the subject of Rubenstein's latest TV venture, was woven throughout Rubenstein's lecture on what makes a good leader. First, he discussed the history of the room in which the Fishlinger Family Lecture was being held, then name-dropped a few historical figures—George Washington, John Adams, Alexander Hamilton, Benjamin Franklin, James Madison, James Monroe—who many describe as being early leaders of the United States of America.
"What do leaders have in common?" Rubenstein asked. "Well, I wrote a book about this, and I interviewed the leaders in our country—from business leaders to political leaders and so forth—and I tried to figure out what they have in common. One thing they have in common is a lot of luck, because you can make your own luck, and you can't be a leader if you're going to say 'I'm going to sit in my office all day and not talk to anybody.' You have to try to make your own luck, and you make your own luck by getting to know people. You never know who's going to bring you an idea."
Using himself as an example, Rubenstein explained how, when he started The Carlyle Group, he didn't know anybody, but people introduced him to other people. It was through one such situation that he was introduced to Bill Conway, who went on to serve as The Carlyle Group's Interim Chief Executive Officer, Co-Chief Executive Officer and Chief Investment Officer.
Going on to reference entrepreneurs like Steve Jobs, Mark Zuckerberg, and Jeff Bezos, Rubenstein said another thing leaders have in common is a desire to build something, even if no one else believes in it.
"You need to have an idea and you need to have people—people like me—tell you it's a stupid idea, and you have to keep going," Rubenstein said, sharing how he passed on an early opportunity to invest in Facebook, and an initial opportunity to invest in what is now Amazon. "You have to have an idea, take it somewhere and be willing to pick yourself up when people tell you it's not going to work and get back in the game."
An ability to persuade people is another skill Rubenstein said all leaders have in common. He said there are three ways leaders do this: by talking well, writing well, and/or leading by example. Again, Rubenstein referenced historical figures by making clarifications such as  "you don't have to be Martin Luther King at the Lincoln Memorial," and "you don't have to be Thomas Jefferson writing the Declaration of Independence, or Abraham Lincoln writing the Gettysburg Address." 
After explaining that good leaders are also ethical and humble, he concluded by saying that good leaders are also people who are truly driven to make the world a better place.
For Rubenstein, that has meant making a promise to dedicate the majority of his wealth to charitable causes through The Giving Pledge, and making what Simpson described as "transformative gifts" to the restoration efforts of the Washington Monument, Lincoln Memorial, Jefferson Memorial, Monticello, Montpelier, Mount Vernon, Arlington House, Iwo Jima Memorial, the Kennedy Center, the Smithsonian, the National Archives, the National Zoo, the Library of Congress, and the National Museum of African American History and Culture.
"What I'm trying to do is different from what you should try to do," he concluded. "Just find some niche that you can say to yourself, 'This is what I'm doing to make the country slightly better and I'm going to be a leader in it,' … and when you get to be my age, you'll look back and say, 'Well, this is what I did with my life. I did something I'm proud of and I'm a leader in this area,' whatever that area might be."
Photos by Thomas Bacho