As some of you know, I teach in the CCJS Department and I recently retired as the Interim Police Chief in Montgomery County and became Chief of the Laurel Police Department. Under my usual perfect timing, I arrive in time to barely know my way around town when we begin to manage our efforts for the COVID-19 response.
Within two hours of my original email, the Department Chair, Professor Peter Kofinas, surprised us by personally delivering a supply of hand sanitizer to our station.
As with many other first responders we have faced issues with obtaining some needed PPE's - including hand sanitizer. Then on Friday afternoon I saw a news clip about members of our own School of Engineering now dedicating their efforts at producing hand sanitizers for public safety and others responsible for responding to this health crisis. I contacted the two professors leading the project, explained who I am, and shamelessly noted we are colleagues here at The University of Maryland. I acknowledge that any help would be appreciated although I knew they were likely being inundated with requests and I didn't expect to hear from them for sometime.
Then within a few minutes Professor Chen Zhang emailed me back and advised that they were going to make another batch of sanitizer soon and would be glad to help us as best they could. This is not the only amazing part - within two hours of my original email the Department Chair, Professor Peter Kofinas, surprised us by personally delivering a supply of hand sanitizer to our station.
This is an amazing story of people we work with, but never meet, caring about other folks they've never met - but just wanting to do an act of goodness and kindness during some tough times. What they didn't know is I've had 12 of my folks put in COVID 19 protocols for testing and quarantine. In the week leading up to my email, I lost half of my communications staff due to a positive test and the required quarantines that followed and was very concerned that I would lose one of our people. We had to close our communications division down and move operations to an alternate site. People were very concerned for their safety and welfare (and that of their loved ones) - you'd be a fool not to be - and then our friends at the Engineering School ride in to provide relief and comfort during a tough time.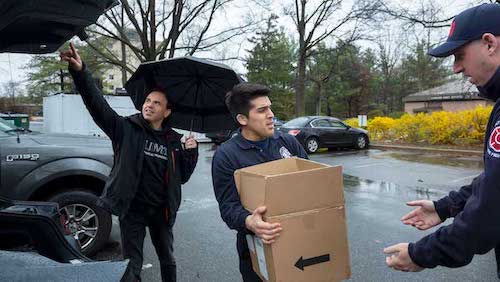 Two things - having the sanitizer is important, but, even more meaningful, is knowing that someone who doesn't know you, has never met you and likely never would meet you cared enough about other human beings on the front lines of a dangerous situation to get this done in a few hours. You really can't express into words what that does for your spirit, for your hope. This isn't really about the sanitizer (again very important), it's about being human beings and caring about one another, just because of that. Just because that's what we're supposed to do - care about each other.
Thanks to Professor Zhang and Professor/Chair Peter Kofinas and their students - for a lot more than you probably realized.  Although thanks doesn't quite cover it.